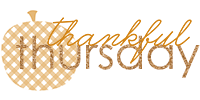 Today what am I thankful for?
Well I have been taking part in thankful sweetness for awhile , but I slacked off alot.
So I just wanted to share what Im thankful for today.
To start my list I am thankful for my

Spiritual Parents

and the Love that they have given me through out the months lately, as things have been bumping up on me they keep me pushing after God
I am thankful for Forgiveness today because I was put into a situation last night that I wasn't even doing but hey how many of you know that its good to communicate?
Being able to work with little 2 year old's every week for my college class, it is my pride and Joy.
Today I am really thankful for True Friends, which those I don't seem to have many of right now.
I am thankful for my sweet Nephews.